Sometimes a series finds you at the right time. Cobra Kai found me, at the right time. My bestie has been urging me to watch it for ages and what with writing, life and everything else, I just hadn't found the time. Now I fear I won't have the time for anything else, now I have found Cobra Kai.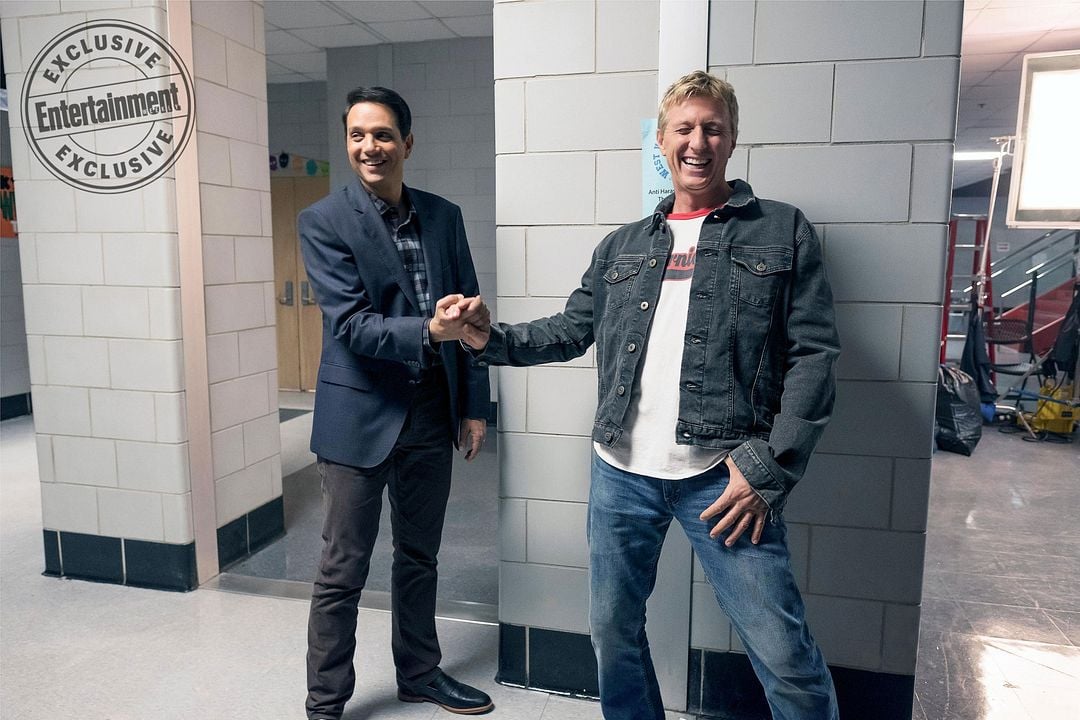 As my re-write of Act 2 continues to crush my spirits, I knew it was time to put down my pen and paper for a breather and watch some excellent writing. Cobra Kai delivered just that. Each scenes packing so much energy, keeping me magnetized and wanting more.
I can barely blink through Season 2 as I am just in awe how these characters have evolved from 80's teen enemies into the men we see in Cobra Kai. Being a HUGE William Zabka fan in the 80's (posters on the wall teen fan stuff), I was so curious to see 1) what both men look like now and… 2) what remains of Johnny Lawrence from Karate Kid 1.
Watching this series is wonderful for someone particularly of my age group – kids who grew up in the 80's – technology free and happy with a VHS. It's like being taken down a memory lane full of nostalgia and flashbacks to The Karate Kid and effective way these elements have been brought into the Cobra Kai series. Nostalgic writing is VERY clever writing. At moments I feel quite weepy as we see Mr. Miyagi impart some wisdom to the young Daniel. Touching to see Ep5, S1 was dedicated to Pat Morita – yes, more tears.
Miyagi's lessons in mind and body Daniel brings to his students now – the classic good vs. evil story-line, it works. The thing is with Daniel, he was always a good kid underneath and his characters journey with Miyagi was a joy to watch. To see him face his nemesis Lawrence, scarred and edgy after all these years is EPIC.
I like the way all the characters are reflections of Johnny's past and his internal struggles, well I see it that way, specifically with the students. You can see his original character in them and it makes you wonder how they will evolve too as this series continues.
Interestingly both main characters struggles with their kids are similar in many ways, both wanting to connect more with their children at different levels. Daniel as a good father and man you don't doubt, but there is a level of neediness and acceptance (almost dependency) on his part with his children that I really enjoy. Johnny as a Dad is what we expect, and the shades of his longing for his son's approval and relationship is well portrayed.
Evolutionary stories such as this fascinate me, what traits stick from the youngster to the man? Are character dynamics the same or altered as they face their old antagonists of the past. It's something I have thought a lot about with Bertie, after all, my story sees him as a young man, to an older version too.
The only thing about Cobra Kai which I find a mystery is Daniels wife, nothing wrong with the character as such, but I just can't imagine he would have married a woman like this after his sweet girlfriends in KK1 and KK2. May be there is more to this character as I continue into series 2. No spoilers please!
As I prepare for my script consultation with my Sensei in early June, I will be hoping for an evolution myself, or if not, I may have to slip the old boxing gloves on again myself and take Act 2 down.